Canoeing, Kayaking, and Tubing For All Ages on the Family Friendly Kickapoo River
Welcome to Mr. Duck's in Ontario Wisconsin, where you can paddle the "Crookedest River in the World", the Kickapoo River from Ontario to La Farge.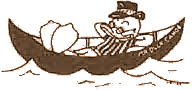 We offer many different trips ranging from 1.5 hours to 6.5 hours
Canoeing, kayaking and tubing in Wisconsin is fun and safe all season long, thanks to Mr. Duck's Canoe Rental. Family owned and operated since 1988, we are conveniently located right on the Kickapoo River two blocks from downtown Ontario, at the junction of Highway 33 and 131 N. (in the Big Yellow Building!)
Because we're located right on the Kickapoo River, you're able to start your water adventure right behind our facilities, which leaves up to 22 miles of drifting, floating, kayaking or canoeing down "the crookedest river in the world", including Wildcat Mountain State Park and the Kickapoo Valley Reserve with over 3000 acres of wildlife and the breathtaking beauty of the surrounding bluffs and crags.
The river offers numerous pick-up points along the Kickapoo between Ontario and La Farge, so you can spend as much time on the river as you wish! Anywhere from 1 1/2 hours to an 6.5 hours! *Note: Shortest trip for tubing is 3 hours.